Test
test
This simple chicken cacciatore makes an easy meal that's a family favorite. It has a bold flavor with lots of onions, peppers and Italian seasoning.
Hey guys! It's Abeer here again and this time, I am sharing my family's recipe for chicken cacciatore.
This is one of my favorite meals to make when I am feeling homesick.
It's flavorful and comforting and comes together in 30 minutes… truly can't get easier than that.
It has so many bold flavors that work together incredibly well.
This is supposed to be an Italian recipe and made with chicken, herbs, onions, tomatoes, bell peppers and wine.
There is one secret ingredient that my Mom adds to make this cacciatore ultra creamy and that is heavy cream.
Yup… good old heavy cream!
It's entirely optional but I highly recommend it!
I have also added cream cheese instead of heavy cream, which works well too.
My favorite way to enjoy this is with pasta but it's also really good with rice. I tried it serving with couscous once and it was awful and I don't recommend it. So, you have been warned! lol.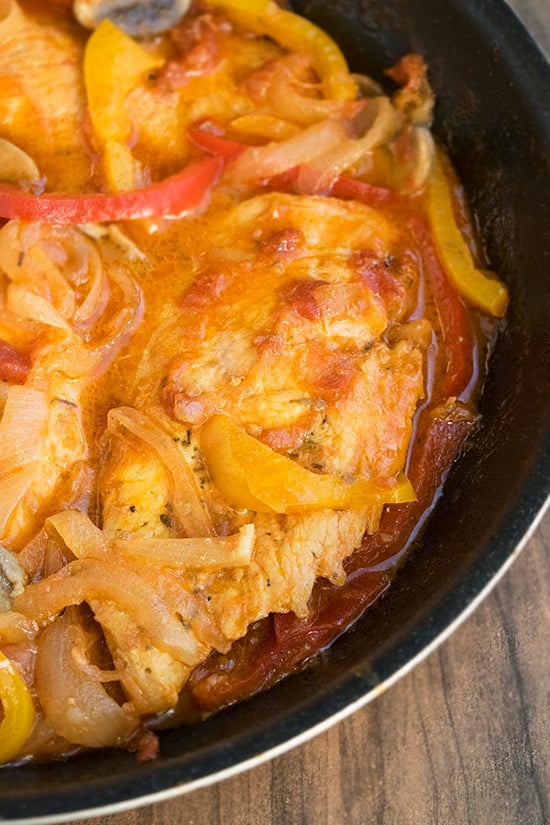 There are some notes to keep in mind about my chicken cacciatore recipe:
I use chicken broth instead of wine but some people use a combination of broth and wine or just wine. Test it out and see which one you like best.
Don't omit butter or replace it with oil since I truly believe it adds a bit of flavor to the overall recipe.
I use chicken breasts since that is what my family likes the most but chicken thighs or chicken legs work just as well.
You can adjust the quantities of mushrooms and peppers, based on your preference.
Leftovers can be stored in a sealed container in the fridge for 3 days.
Here are some other easy dinner you might also enjoy: One pot black pepper chicken and Chicken pad thai.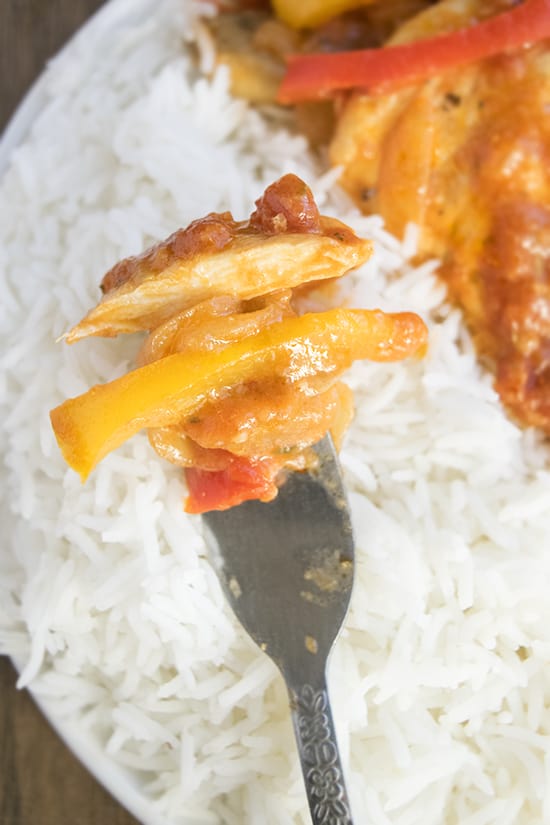 WordPress is an award-winning web software, used by millions of webmasters worldwide for building their website or blog. SiteGround is proud to host this particular WordPress installation and provide users with multiple resources to facilitate the management of their WP websites:
SiteGround provides superior WordPress hosting focused on speed, security and customer service. We take care of WordPress sites security with unique server-level customizations, WP auto-updates, and daily backups. We make them faster by regularly upgrading our hardware, offering free CDN with Railgun and developing our SuperCacher that speeds sites up to 100 times! And last but not least, we provide real WordPress help 24/7! Learn more about SiteGround WordPress hosting
WordPress tutorial and knowledgebase articles
WordPress is considered an easy to work with software. Yet, if you are a beginner you might need some help, or you might be looking for tweaks that do not come naturally even to more advanced users. SiteGround WordPress tutorial includes installation and theme change instructions, management of WordPress plugins, manual upgrade and backup creation, and more. If you are looking for a more rare setup or modification, you may visit SiteGround Knowledgebase.
SiteGround experts not only develop various solutions for WordPress sites, but also create unique designs that you could download for free. SiteGround WordPress themes are easy to customize for the particular use of the webmaster.